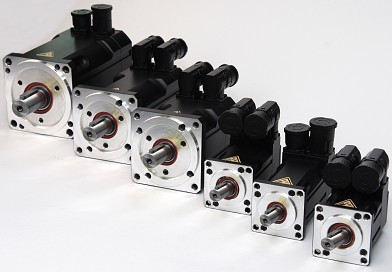 Our standard AC synchronous servomotors have three phases winding and permanent magnets on the rotor. Winding is designed for sinusoidal current and voltage. Thin layer of the NdFeb magnets are placed on the rotor. The servomotor is usually equipped by a feedback device (resolver, absolute encoder) enabling effective position control of the servomotor.
Our servomotors have standardly six-poles or ten-poles design, nevertheless we have also in our portfolio low speed torque motors characterized by high number of poles on the rotor.
Design changes allowing implementation of our motors into nonstandard industrial drives or winding modification leading to custom nominal speed or supply voltage are a matter of fact.
We are able to design and manufacture virtually any synchronous servomotor including special designs on the bases of the customer request.
If you are interested in our servomotors, don't hesitate and contact our affiliated company TG Drives, s.r.o., that deals in design, supply, programming, commissioning and service of servo drives since 1995.